This past week I was tuning into the energy of Money like never before. There is a definite energy to Money. Since I can connect to the Metaphysical, I noticed that the energy of Money is different than the angels, the fairies, the goddesses, the Archangels and even the Pleidians. In connecting to each of them over the past 2 weeks I could feel the palpable difference.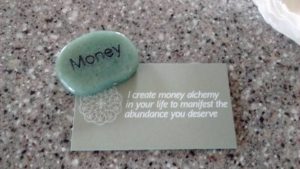 When I connected to Money, it was such a powerful and consistent energy! I was talking to my friend Rhonda Riegel at Intuitive Alchemy about if she could put that energy in a bottle! She asked me if I could channel that Money energy and I said I could. Then she asked me is it a smell, is it a flower essence? As I tuned into Money, the Money stones showed up.
All the members in Being Present to Serve all received a Money stone from me. These Money Stones are so magical. Some of them sing to our members! I have heard many times that they move around. They create Money miracles in our lives. They are magical money crystals that I have amplified their energy with Reiki and goddess energy. The next thing I'm going to do is channel that Money Energy into the Money Stones.
So how do you connect with this Money Energy? I want you feel the "certainty" of Money. That you totally TRUST that its coming, its your birthright. Feel that you are worthy of this Money. Can you sit with Money and feel all of that?
What would you do if $500,000 showed up? I want to know! Email me: ming@themoneyalchemist.com