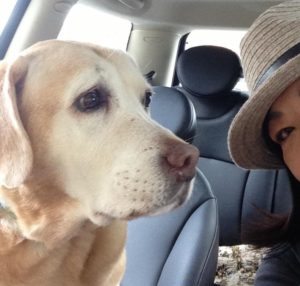 Are you being seen? Are you stepping into your divine gifts? When we do that, we are see ourselves. When we see ourselves, we allow the Universe to see us. Then the Money comes in , the abundance, all that we need . It is important that WE see ourselves, once we allow ourselves to be seen by ourselves, others see what we see. So look at yourself with love in your heart and see what you have to offer to the Universe.
When I was living in Los Angeles, I was not being fully seen. I didn't even realize it until I moved. I didn't have the awareness of what it meant to really be seen until I moved. I did know this much, I was not being seen and I didn't know why. I actually felt at times invisible.
Moving to a new city, I stepped into who I was, a Reiki Master, teacher and healing animals. It felt natural to talk about it. We joined the Chamber of Commerce, we talked about what we did, who we are. It seemed so easy and effortless. There was no fear, there was no thinking of what will people think? Will they know what Reiki is? None of those thoughts came up. In fact, the opposite. In fact, at the first meeting at the Chamber, people came up to us and said, Wow, Reiki Masters that is so cool. So every where we went, people asked us what we did, we said we are Reiki Masters that work with animals.
As we continue to step into our divine gifts, the Universe has to back us. By doing so, we meet the right people, we get the emails, situations and opportunities. come up that are perfect for what we need. Inspiration hits, intuition comes in ! All we need to do is to step into who we are, our authentic self and the Universe backs us up.
The journey to becoming the Money Alchemist was the same journey. I just kept doing what it was that I was doing. A lot of the requests I got was around money because I did a call with Jeannette Maw at Good Vibe University on how to manifest $1000 in 10 days. From there, I did many coaching calls all about manifesting Money. I only started noticing in myself how I was able to create abundance in my life. It never stopped, it kept coming. Then Universe delivers again.
I met Amina Makhdoom on a lark really. Though divinely orchestrated. We spoke on the phone for 90 min. Out of that phone call we created a 6 week free program called Being Present to Serve- How we make Money. When Amina and I created the Being Present to Serve group, it became even clearer. Up until then I didn't even know what it was that I was doing in my "coaching" … in fact I asked our group, what the sessions were called and that is when Alchemy came up. So I encourage you all that want to manifest more money into your life to continue to step into those divine gifts and allow the Universe to back you up!
As for me, I continue to remain open to the delights headed my way!